Lessons From The Field
David O. McKay Essay Contest
Brigham Young University, Provo, Utah
There were five minutes left in the game. We had come from behind and put ourselves ahead of the San Diego Aztecs. The score was 45-31. We really needed this win, not only to remain in the chase for the WAC championship, but also for our own morale. A lot was at stake here, including our pride. We had suffered from four disappointing losses in October making our record 4-4. We were beginning to wonder if we had any fans left. But now, we really had a chance to gain some respect for ourselves. Everything was going our way until the Aztecs scored on a 30 yard pass with just over 4 minutes remaining.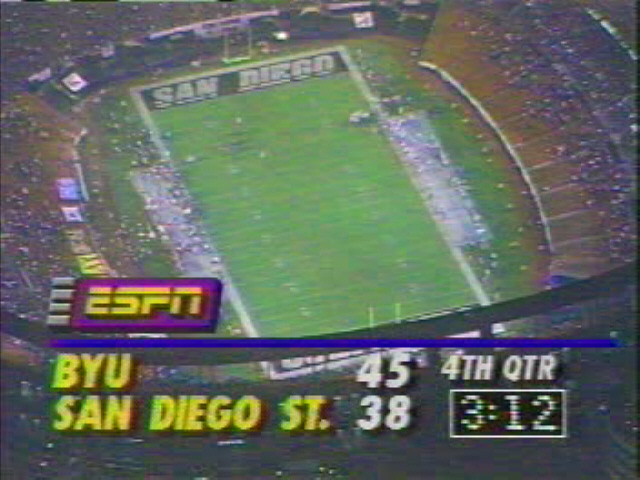 The score now was 45-38. It was getting a little too close for comfort. However, all we had to do was let the time run out and score if we could. And just as there were three minutes left, we threw an interception. I could not believe what terrible luck we had. It seemed our whole season was turning out like this. The Aztecs took the ball, scored and brought themselves within one point of our score. The scoreboard now read 45-44. The atmosphere suddenly became tense as SDSU decided to go for the two-point conversion. There was a minute left and it was all up to the defense now. "If they don't stop them, we'll lose everything", I thought. The Aztec quarterback dropped back, faked a few passes, and saw a hole leading straight to the goal line. Everyone else saw it as well, and our hearts dropped in despair. Then, all of a sudden, the ball was bouncing on the ground. Fumble! We could not believe what we saw. Then, out of nowhere, one of our defensive backs came flying in and pounced on the ball. "BYU recovers!" screamed the announcer. We ran out onto the field, downed the ball, and let the time run out.
We won 45-44, and winning never felt so good. My coach was so excited, he gave everyone hugs and even kissed a player. As I walked back into the locker room, I thought to myself, "That was one of the most exciting games that I've ever played in. I'm so glad I stuck it out! Look where patience and hard work has brought me!"
It's not hard to forget the tough times I was going through and I struggled with this because I was not a quitter. I had never quit at anything during my entire life. Yet, I remember that I could not see the "light at the end of the tunnel" and I wondered if it was all worth the effort.
My troubles began at the beginning of the 1991 season. I had some high hopes and goals for myself. I wanted to earn my position on the travelling squad, and even see some playing time during the games. I had worked hard that summer and spent most of my time in the weight room, on the field, and at the dinner table. For two seasons, I spent my time on the developmental squad. Being on the developmental squad for any football team means you hold the dummy-bags or serve as a live target for the varsity players. Those offensive players that did this for the varsity defense belonged to a group nicknamed the "Claude Squad". The Claude Squad was nicknamed after Coach Bassett who was in charge of these young and inexperienced players. My freshman year, the 1987 season, I was on the Claude Squad and I also saw some playing time with the junior varsity team. That was fun, but I felt I had something better in store for me. The 1990 season after my mission, my redshirt year, I found myself with Claude again. I knew that it was the price I would have to pay in order to be a part of the varsity team. So, the past few years had built up to this moment. I arrived to summer football camp weighing 265 pounds, which was 10 pounds heavier than the previous season. This was the heaviest I had ever weighed up until that time. I worked hard during two-a-days and apparently it paid off because I made third-string center and I was on the traveling squad. I traveled with the team to Anaheim, California to play Florida State in the first Kickoff Classic. The following week, we were in Pasadena, California, matching ourselves against the UCLA Bruins. I was having the time of my life, and even though I had not yet seen much playing time, I was happy because I was progressing and I felt like I was a part of the team.
The following week we had a bye and the junior varsity was scheduled to play Snow College. They asked me to play in that game because they lacked the personnel. Although it was not the varsity, I thought it would be fun to play in Cougar Stadium and actually play football since I would not see much action with the team. The game was going well and we were winning 30-0. It was near halftime, and we were about to score again. I snapped the ball, and turned to my man, when suddenly a 340 pound Samoan fell on my ankle and I fell to the ground. I knew right away that it was a fairly serious injury because of the amount of pain that I felt. The athletic trainers came out onto the field and helped me to the sidelines. They looked at me and evaluated the condition of my ankle and later said I had a second-degree sprain. Needless to say, I didn't return to the game. I was scheduled to be absent from practice for two to three weeks, depending on my recovery. I was actually gone for two weeks, because I worked hard to rehabilitate my ankle. For some reason, some of the players and coaches didn't think that my injury was very serious. Some players said I was "milking it", meaning that I was faking the injury so I wouldn't have to practice. My coach even tried to have me help out in the drills and said, "C'mon Simmons! You're not that hurt!" I thought that maybe it would have been better to break my ankle instead of sprain it because then they could see that I was truly hurt. "Oh well," I said to myself, "I can only do my best and not pay attention to that stuff." I watched as the team left without me to Pennsylvania the following week. They were off to play Penn State and on the way they would stop and sightsee at Gettysburg. I remember how mad and disappointed I felt for getting hurt because I could have been with them.
After those two weeks, I had finally passed the criteria for return to activity and I was going back to practice. I still felt a considerable amount of pain in my ankle, but I did not care. I had been away from practice long enough. However, I found it harder than I had expected to get back into swing of things. There were some new plays I needed to learn, and it felt like everyone had forgotten about me. I struggled to get some practice time in the drills. I knew that they only way I could improve was by practicing. Once, when I asked to get into one of the practice drills, the center ahead of me gave me a dirty look and another player turned to me and said, "What are you doing here? You're not a part of the team anymore. You've been away too long." At that moment, I felt all my hopes and desires fly right out the window. I lost all my motivation and I simply didn't care anymore. I was seeing less and less practice time and I was not traveling anymore. Sometimes I would just go to practice and stand the whole time. It was not too much longer after that when I was ordered to see Claude. Yes, I was back on the Claude Squad again, and there I stayed until the season ended. I was very unhappy. I did not want to be a part of the developmental team again. I had worked too hard and I did not deserve to be treated like this. Most guys spend one or two years there, and now I was going to make it three. "It's so unfair!" I kept saying to myself. I thought about quitting during the season, but I felt it would be better to finish the season before I would leave the team. Also, I wanted some time to make sure that this is what I really wanted to do before I was to "burn all my bridges". I was ashamed of wanting to quit, but I felt it was in my best interest to move on to something better.
During this time, I turned to the scriptures for guidance and I prayed about it continually. I remembered an experience I had on my mission where my lack of faith and patience could have been disastrous. My companion and I were teaching a family in a remote Mexican town. We had progressed up to the fourth discussion and we talked about the Word of Wisdom. The father of the family habitually smoked and it seemed to me that this family was uninterested and unwilling to make the necessary changes in their lives. Both of my companions and I were later transferred to different areas. A few months went by and I heard the news that this family that we were once teaching had been baptized and become strong converts to the church. The elders found their names in the area notebook and continued to teach them about the gospel. When asked about their previous experiences with the missionaries, this family said that they wondered why the missionaries never returned because they were very interested in hearing more about the church. I couldn't help but feel guilty for not having the faith nor the patience to keep teaching this family. I shuddered as I thought what might have happened had we not left their names in the area notebook. This family might have never received the opportunity to enjoy the blessings of the gospel.
I wondered if my situation with the football team was similar. By quitting, would I be lacking faith and patience, and would I miss out on a greater blessing? As I searched the scriptures I came upon a section in the Doctrine and Covenants that seemed to give me back some hope. In section 78, verses 17 and 18, it reads: "Verily, verily, I say unto you, ye are little children, and ye have not as yet understood how great blessings the Father hath in his own hands prepared for you; And ye cannot bear all things now; nevertheless, be of good cheer, for I will lead you along. The kingdom is yours and the blessings thereof are yours, and the riches of eternity are yours." I literally shed tears as I felt the Lord speaking directly to me. I began to ask myself some questions. Is there something that I have not understood? Is there something for me to learn? Will the Lord lead me along? What does He have in store for me? I began to search the scriptures some more. A few verses in Hebrews popped out at me. They said: "For God is not unrighteous to forget your work and labour....which ye have shewed toward his name...And we desire that every one of you do shew the same diligence to the full assurance of hope unto the end. That ye be not slothful, but followers of them who through faith and patience inherit the promises" (Hebrews 6:10-12). Does God remember my hope, diligence and hard work? Does He want me to continue with it? Does He have promises for me? Have I really given my best? These were questions that I began asking. I spent so much time pondering these words I had found in the scriptures. I spent countless hours talking to my parents over the phone about my decision. They didn't agree, but I felt that they "just didn't understand". My dad flew to Provo to comfort and strengthen me. I told him that I did not like my coach and that I could not handle him anymore. I always had a hard time with my coach; I guess I was not used to dealing with a coach of this nature.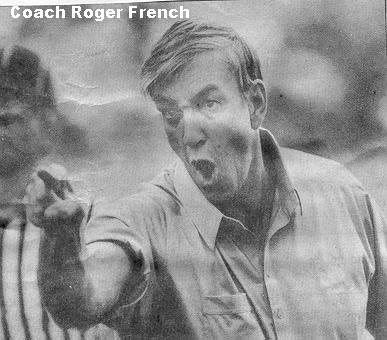 My coach was the type of guy who kept playing mind games and liked to yell. Although he never used profanity, he somehow was still able to take away your self-esteem. It seemed all of his comments were negative and this began to wear on me day after day. I remember telling my dad that it was not worth the effort to feel so worthless. My father always has good advice and he told me before I was born where his supervisor was always yelling at him with degrading language. My dad said he worked twice as hard so that his supervisor would leave him alone, but it seemed that no matter what he did, he was always wrong. But he said that he never gave up and eventually stood up to his supervisor and earned the respect he deserved. My dad told me that quitting was the wrong thing to do, and that I would have to learn how to deal with people like my coach because it's all a part of life. This advice weighed heavily on my mind. Until then, I had always obeyed my father's wishes. I was confused. Was the Lord trying to tell me not to quit? Was there something out there in store for me? I was still indecisive and started reading a book that my father gave me. It was entitled Fourth Down and Life To Go, by Sean Covey. I knew Sean from my freshman year. He was starting quarterback and our lockers were across from each other. I always had a lot of respect for him. My dad told me to read this book because Sean had gone through some problems similar to mine. I remembered how, as a senior, he lost his starting position to Ty Detmer. I'm sure that was hard! In his book, Sean talked about his football experiences and I could closely relate to them. Sean said, "I don't believe our Heavenly Father cares about football itself, yet I do know that he is interested in our character growth, and if football can provide that, then the Lord is interested in football." Does Heavenly Father want me to build my character? Should I stay with football to do this? Again, I was asking myself some questions. Sean goes on to talk about remaining in our comfort zones, and I realized that maybe I was now afraid of stepping out of my comfort zone and fighting for what I deserved. He wrote about many things which impressed me, and I felt that I should write him and ask him for some advice. We knew each other and maybe he could shed some light on the subject. He wrote me back, and his advice hit me hard. Therein I found my answer.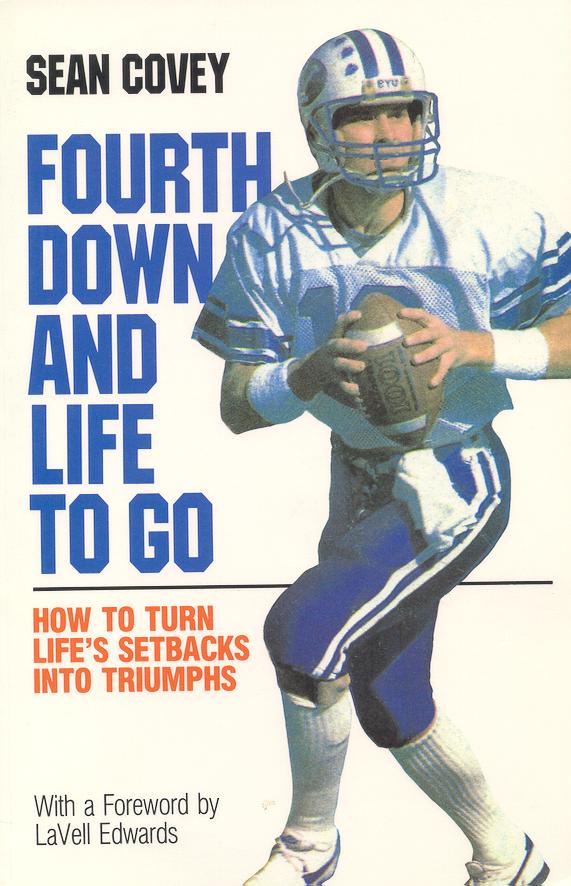 He wrote:
After reading your letter, I have a few thoughts. First, I can relate in a large measure to how you feel. The coaches at BYU, although they are basically pretty good people, are not the greatest confidence builders and can and do discourage many football players from becoming their best. Coach French in particular is a strange breed and I know that many people have had difficult times with him. When Steve Young was at BYU, he and Coach French did not even speak to each other. I understand how frustrating it is when you never know what the coaches are thinking or saying when they make irrational decisions, decisions that affect your life, and then they don't bother to tell you about them. Of all the events I've participated in during my life, football has been the most unfair. I remember when I was a sophomore, how comments from coaches or from the newspapers about me would make or break my day. So Ron, I think I understand what you are going through...I don't think I'm mister wisdom, but I do have some advice for you.
It sounds like your not committed to football. You become easily discouraged and are tossed about by comments from your coaches or players. Your confidence is a function of what other people (coaches, players, etc.) are saying about you which makes your life (at least in football) an emotional roller coaster. Like I once had to do, you must decide if you want to play or not. Football is going to take thousands of hours of your time which you could spend somewhere else. I have a good friend, Eddie Rowe, who decided to quit because he lost his desire to play. There is nothing wrong with this, there is no shame or cowardice in it, although some of the coaches would want you to feel this way. In fact, in Eddie's case, it took an amazing amount of courage to quit, and I admire him for it.
In other words, Ron, if you are not completely committed to football you ought to quit. Otherwise, it is a big stinking waste of your time. On the other hand, if you still have a spark of desire to play, you need a fuller commitment. Think about it, ponder it, and pray about it. You alone can decide. Whatever you do, don't go half way. Don't be luke warm. Be hot or cold. If your going to hang up football because you want to spend your time doing something else, then whole-heartedly do it, and don't look back. If you want to play, then throw your heart into it and don't look back. If you decide to play, set a goal and stick to it; let nothing sway you from it. Don't listen to what people are saying about you. Don't allow yourself to get discouraged. Remember, you can't become discouraged without your consent.
...Ron, my goal was to become an outstanding quarterback. And once I had that goal in mind, I wasn't going to let discouragement (which will always try to creep in from 100 angles) get to me. No matter what you do in life you will have critics. But remember you can only become discouraged or intimidated when you allow yourself to be. It is your choice...If you will begin to set goals in your life, your internal confidence will slowly begin to grow, until you will not care what other people are saying bout you because your confidence comes from within, not from without. If you decide to play...[know that] you will continue to have bad practices and good practices, but all in all your commitment will shine through. Your friend, Sean.
I never wrote Sean back and thanked him for writing this wonderful letter. I don't think that he knows what profound effect this one letter had on me and my life. Wow, the truth sure hit hard! Sean was right! I was not totally committed to football. I was at one time, but I had lost that desire. I loved what Sean said about setting goals. I have always felt that I was a goal-oriented person. I had set goals when I was young to become an Eagle Scout and to go on a mission and I worked hard and accomplished both of these goals. Until this tough time in my life, I had felt that nothing could stop me. Playing college football was also one of those goals I had set for myself when I was young, and this is why I was feeling like a failure, because I lost faith in myself and was ready to give up. Sean's letter, however, gave me some hope. I realized that I needed to stop and take a good look within myself. I needed to find out what I really wanted to do . I took Sean's advice and decided to think and pray about it. I spend many hours on my knees looking for guidance. I believed the prophet Alma who said, "Counsel with the Lord in all thy doings, and he will direct thee for good" (Alma 37:37). I knew that I had to put my trust in God if I wanted to find the right path. I found some verses in Proverbs that told me what I needed to do: "Trust in the Lord with all thine heart; and lean not unto thine own understanding. In all they ways acknowledge him, and he shall direct they paths" (Proverbs 3:5-6). I had to ask myself: Do I really want to play? Is there still a "spark of desire to play" left in me? I could not deny what I was feeling. I still wanted to play! Deep down inside, I did not want to quit! So, I had to take Sean's advice and have a fuller commitment. I couldn't sit on the fence, or walk down the middle of the road. I had to do it or not do it. I read a verse in Luke that confirmed what Sean said about not looking back. "And Jesus said unto him, No man having put his hand to the plough, and looking back, is fit for the kingdom of God" (Luke 9:62). The Lord requires us to give our entire selves to Him, not just in part. In the Book of Mormon, the prophet Omni invites us to "come unto Christ...and partake of His salvation, and the power of His redemption...and offer your whole souls as an offering unto him..." (Omni 1:26). Just as the Lord expects us to commit ourselves totally to Him, so must we dedicate ourselves to our righteous goals. We must also realize that adversity is a part of life, and with faith and patience we can overcome anything. I decided that since I still wanted to play football, I needed to rid myself of my negative attitudes and thoughts. I knew that I would have to begin with faith. President Spencer W. Kimball explained, "In faith we plant the seed, and soon we see the miracle of the blossoming. Men have often misunderstood and have reversed the process. They would have the have the harvest before the planting, the reward before the service, the miracle before the faith." I guess I was one of those who have misunderstood the process of faith. But no longer! I made my decision. I was going to play. I dedicated myself to becoming a better football player by living in the weight room and giving 100% while at practice. I wanted to make the coaches notice me and let me play. I also knew, that I could not let myself get discouraged.
I remember that when I was very young, I decided I wanted to go on a mission. I also decided that I was not going to let anything get in my way. My friends tried to get me to do things that were wrong but I would not listen. When coaches from other universities were recruiting me, they discouraged me from going on a mission, but I told them that if they would not allow me to go on a mission, I would not attend their university. They soon changed their minds. I served a wonderful mission to Southern Mexico and I am so grateful that I made those goals so long ago. I would do the same with football. My faith in myself and in the Lord would require patience. I could not see the "light at the end of the tunnel", so I would have to be patient and have faith. Abraham was given a promise by the Lord and he had to be patient for many years before he received it, "...God made promise to Abraham, because he could swear by no greater...And so, after he had patiently endured, he obtained the promise" (Hebrews 6:10-15). I knew that if I would patiently endure, I, too, would obtain the promise.
The 1992 season was another year of waiting patiently. I worked hard at practice and would not get discouraged. Coaches yelled and obstacles came, but I would not give in. I made second-string center and I was building my way up the ladder. I traveled to every game and when we scored enough, I sometimes got to play for a few minutes. I was happy because I could see my hard work and patience paying off. I could see the Lord's blessings and promises unfolding right before my eyes. My commitment and diligence was working. The coaches were noticing me. They said I was improving and becoming very good. They thought I had a good chance to start the next season. With my new found attitude, I began to notice a strange transformation that I thought could never happen. I began to respect my coach and even started to like him. This in itself was a miracle. The 1993 season was my senior year. It was a chance to see my dreams and goals come true. I worked harder this time because the price was higher. This time I reported to summer camp weighing 275 pounds. And it all paid off, because I became the starting center for the 1993 BYU football team.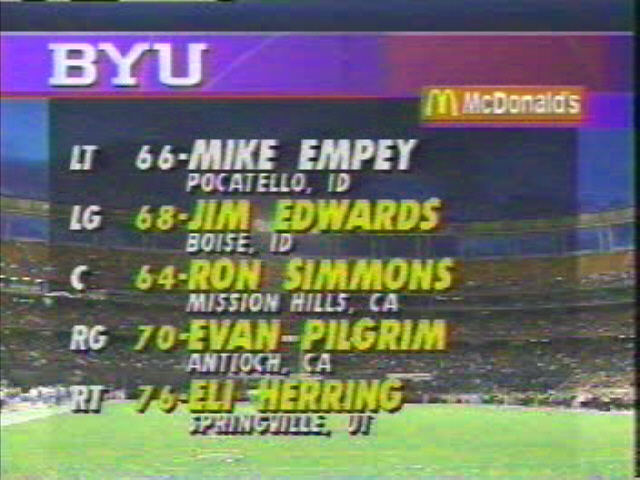 I was excited! The season started off great with 4 straight wins against New Mexico, Hawaii, Colorado State, and the Air Force. However, adversity came into our midst again. We started of October with the greatest loss in my life. We lost to UCLA 68-14. I had never felt so defeated. We lost the next three games to Notre Dame, Fresno State, and Utah State. We were feeling extremely low after our loss to Utah State because they had not beaten us for 11 years. Our fans were losing faith in us. This is not what I expected my senior year to be like. Many people said that we needed new coaches and new players. BYU had not lost four straight games since 1973. They were calling us the worst team in the Lavell Edwards era. We were losing several key players to injuries. Coach Edwards himself said, "The injuries are bordering on the ridiculous." We were wondering if we had any fans left, and our team was falling apart. Players began back-biting and blaming. I wondered if anything else could go wrong. I thought back to the time when I was struggling with the decision to stay or quit. I was facing a lot of adversity then and look where patience and diligence had brought me now. I was the starting center! I was fulfilling my goals and dreams! We still had a chance to win back some respect. We were not lost causes. All we had to do was set some goals and do the work! The coaches were very good at inspiring us to not give up. Former players were writing the team and encouraging us to keep fighting. San Diego State was our next game, and everything was on the line. The championship and our self-respect was at stake. We won that game 45-44 by a matter of inches.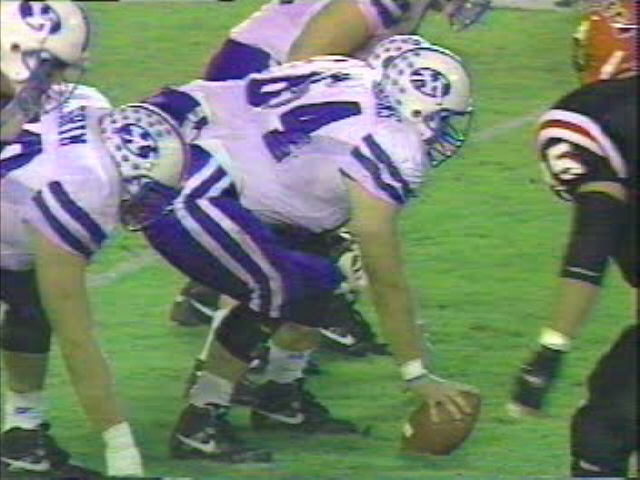 We were feeling good, but the challenges were not over. We lost the following week in our own stadium and to our rival, the University of Utah, 34-31. BYU had not lost to Utah in Cougar Stadium since 1971. The critics were talking again. Now, we had to win our last game against UTEP. If we were to win, we could go to a bowl game, and still possibly the Holiday Bowl. Our record was 5-5 and a team must have at least 6 wins to be invited to a bowl game. If we were to lose, our season would be over. Needless to say, we beat the Miners 47-13. After that game, the coaches and staff handed our the traditional senior blankets. When Coach Edwards game me mine, he shook my hand told me how proud the coaches were of me. I made them notice! I was so glad I hung with it! I hoped that Sean was watching. I thanked the Lord for blessing me to get so far. We were again blessed as Wyoming lost to San Diego State and gave us the opportunity to go to the Holiday Bowl. It was just as I had dreamed it...playing my last game of football in the Holiday Bowl. What a feeling of accomplishment! My faith and patience paid off! The Lord fulfilled his promise and He blessed me.
I look back on those times as a period in my life when I did a lot of growing and learning. Glen Tuckett, the Athletic Director at the time, wrote me a letter after the season and complimented me for my accomplishments. He wrote:
Dear Ron: Just a short note to congratulate you on an outstanding year in football. I have been so impressed with Ron Simmons. I have watched you closely during the past years and have marveled at your patience and your dedication to the program. Many young men would have quit! You, however, have displayed real manhood and have found that patience has paid off.
You played extremely well throughout the year. I made it a point to watch you in the games and on film. You were an outstanding member of the offensive line. Without your leadership, we would have been far less successful than we were. Sincerely, Glen Tuckett.
His letter confirmed the feelings of satisfaction I was enjoying. Patience did pay off, and I had learned a lesson that would carry me through the rest of my life. My parents also expressed their gratitude to Coach Edwards for the personal growth that football gave me. Their prayers had been answered as well.
Football taught me many great lessons. I learned some things that will carry me through the rest of my life. I saw how persistence and faith will not only help someone to accomplish their goals, but can also bring that person closer to God. These principles of faith, patience, and hard work are taught in the scriptures and are essential to our eternal salvation. As it says in 2 Nephi 31:20, "Wherefore, ye must press forward with a steadfastness in Christ, having a perfect brightness of hope, and a love of God and of all men. Wherefore, if ye shall press forward, feasting upon the word of Christ, and endure to the end, behold, thus saith the Father: Ye shall have eternal life." Our Heavenly Father watches over us and cares about every part of our life. If we rely on Him, and have patience, we will find great happiness throughout our lives.